This week's point breakdown:
The Bachelorette:
J.P.: 50
Ryan P.: 50
Constantine: 50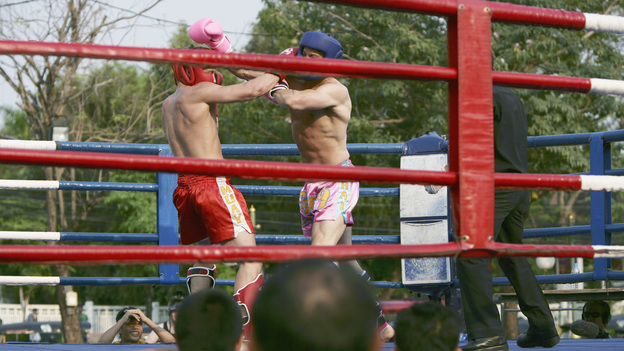 Ashley decided that having the guys beat the crap out of each other in a Muay Thai fighting ring would be the most romantic way of finding which one of these suckers she would string along while she desperately fantasizes about Bentley. Because of this all of our Bachelors garnered major points. Fifty each for both engaging in a physical fight and winning (that pussy Ames got his giant head clocked) for Ryan P., Constantine and J.P.
Basketball Wives:
Evelyn: 25
Royce: 0
Tami: 5
Evelyn continued her reign as both the hottest lady on the show AND the best draft choice. She garnered 5 points for crying over her unfathomably pretty daughter graduating from high school and 20 for mentioning her show referencing (and namesake of Poyer's team)
T-shirt line, You Are a Non F'n Factor B!tch
. Tami continued to disappoint with a measly 5 points for a verbal argument.
The Challenge:
Paula: 35
Kenny: 0
Wes: 0
Laurel: 0
CT: 0
Mandi: 5
Leroy: 0
Jasmine: 25
Jenn: 5
Ev: 35
Tyler: 0
Johnny: 0
Adam: 155
The majority of our points came from
The Challenge
, making us feel much better about drafting most of our players from this pool. Adam proved to be a fantastic final-round pick, going out in a blaze of glory, just like he did on
The Real World
. Without exhibiting any obvious signs of intoxication (how is that even possible?!) he managed to pick a fight with Ty (a pretty forgivable pick, if you ask me), gaining points for verbally fighting (5), physically fighting (25), being reprimanded by production (25) and getting kicked out of the whole shebang (100). Both Paula and Ev found themselves in the elimination round and fought their way back into the game getting 10 points for the win and 25 for making T.J. say "You killed it." Speaking of, having survived a hellacious accident, the man with no personality who you find yourself wanting to hang out with most, made his triumphant return to the show and Jenn cried. Five points. Mandi got a little drunk, getting 5 points from the Commish. Jasmine got WAY drunker, getting a whopping 20 points. You do have to be pretty wasted to hook up with Tyree (5 points). As a person who once took a class with the guy he is NOT the kind of person one actively pursues when there are camera around, unless you've had a few shots.